What does Hay Milk TSG mean?
This is an abbreviation for the EU quality label TSG. It stands for "traditional specialityguaranteed". It is one of the European Union's three quality labels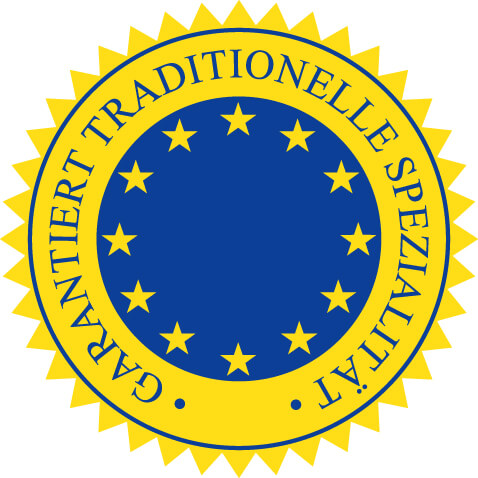 In 2016, hay milk was awarded the EU quality seal TSGin recognition of the special farming methods.This was the first time that the label had been awarded in German-speaking territories. Hay milkfrom goats and sheep have also been entitled to carry EU quality label "traditional specialityguaranteed" since 2019.
This quality label refers to the manufacturing methods used for the product. Like hay milk, productsbearing the traditional speciality guaranteed (TSG) label are manufactured in a specific way. Theymust be made from traditional raw materials or have a traditional composition or method ofproduction or processing.
The term "traditional" means that the manufacturing method has beenused for at least 30 years.Consumers who buy products with an EU quality label are making an important contribution tothefuture. After all, traditions can only be maintained if sustainable farming is allowed to flourish
Zertifizierungsprogramm
The certification program regulates the minimum requirements and procedures for checking the special characteristics of hay milk TSG, sheep's hay milk TSG and goat's hay milk TSG for milk production companies, for treatment and processing companies and for contract processors.
Certification programme haymilk t.s.g.
Only in German language:
Certification authorities
Austria:
Austria Bio Garantie GmbH, Enzersfeld www.abg.at
Austria Bio Garantie – Landwirtschaft GmbH, Enzersfeld www.abg.at
agroVet GmbH, Enzersfeld www.agrovet.at
BIOS – Biokontrollservice Österreich, Wartberg www.bios-kontrolle.at
LACON GmbH Österreich, Rohrbach www.lacon-institut.com
LKV Austria Qualitätsmanagement GmbH, Wien www.lkv.at
SGS Austria Controll-Co GmbH, Wien www.sgs-kontrolle.at
SLK GesmbH, Wals www.slk.at
Germany:
Baden-Württemberg:
ABCERT AG, Esslingen www.abcert.de
Kontrollverein ökologischer Landbau e.V., Karlsruhe, www.kontrollverein.de
LACON GmbH, Offenburg www.lacon-institut.com
Bayern:
ABCERT AG, Augsburg www.abcert.de
LACON GmbH, Passau  www.lacon-institut.com
milchZert GmbH, Wolnzach  www.milchzert.de
Brandenburg:
LACON GmbH Deutschland, Offenburg www.lacon-institut.com
Sachsen:
LKS-Landwirtschaftliche Kommunikations- und Servicegesellschaft mbH, Lichtenwalde www.lks-mbh.com
Italy:
ABCERT GmbH SRL, Terlan/Terlano www.abcert.it
agroVet GmbH, Enzersfeld www.agrovet.at
Kontrollservice BIKO Tirol, Innsbruck www.biko.at
Slovenia:
Bureau Veritas, d.o.o., Ljubljana, www.bureauveritas.si
Inštitut KON-CERT, Maribor, www.kon-cert.si
IKC  – Inštitut za kontrolo in certifikacijo UM, Hoče, www.ikc-um.si
Hay milk TSG certified companies
Austria:
Germany:
Italy:
Slovenia: